Snap! Mobile Gives Back
Thank you for nominating such inspiring and impactful programs to win the $1,000 donation from Snap! Mobile!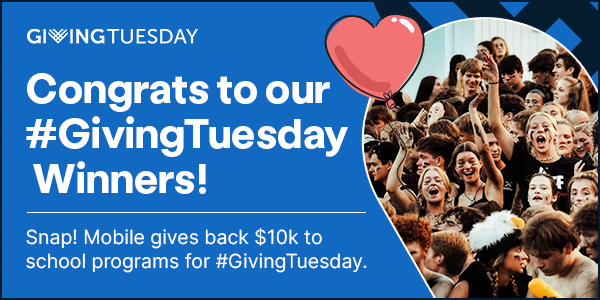 The winners are…
Your nominations helped us give back to activities and athletic programs so that kids can participate and have a rewarding experience as part of a team, club, band, or other extracurricular activity they love!
Without further ado, the winners are…
1. Redondo Union Avid – California
2. Eagles Basketball Boosters – Texas
3. Southwest Stampede Youth Football – Arizona
4. Springstead Highschool Basketball – Florida
5. East Haven Softball – Connecticut
6. Vineland Girls Soccer – New Jersey
7. River Bluff Choir 2022 – South Carolina
8. Perry Boys Basketball – Ohio
9. CSLA Band and Strings – Tennessee
10. Paint Branch High School Boys Lacrosse – Maryland
Let us support you.
We understand that programs may need money now to replace old equipment, fund their summer camp or upcoming event, new uniforms, or all the above – but they may not have the time to fundraise. Let us help! We help programs get early access to the funds they need – immediately. Get ready for a standout year.